This picture shows the current phase of the Moon.

The wandering Moon image, which is present on most maps of this website, indicates the position of the Moons gravity center on Earth (sublunar point), otherwise known as "tide-producing center".
continue reading below
---
---
The picture below shows a view of the Earth from the vantage point of the Moon, the curent Earth phase:
Click on the picture for a larger view and an computer animation of the waxing and waning Earth: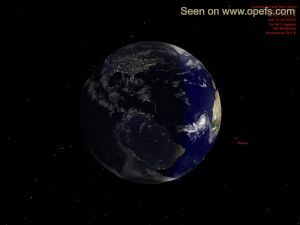 From this perspective it is possible to watch the progress of any solar eclipse as it progresses across the Earth. A bright yellow dot marks the position of the sun (viewable before and after each full moon).

---
Total lunar eclipse from 4th March 2007 over Europe:
here is a small movie from that event:

download here.
(To see all details enlarge to full-screen).
---

Here are several pictures of the current moonphase which you can use on your website. All pictures on this page can be linked to.
The pictures are updated every 3 hours.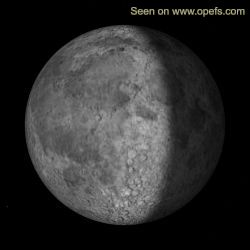 Use for example the URL's
http://www.ehabich.info/images/synchro/moon_100x100.jpeg
http://www.ehabich.info/images/synchro/moon_250x250.jpeg
http://www.ehabich.info/images/synchro/moon_splash.jpeg.