This website displays every 20 minutes the latest global warming info, earthquakes, hurricanes, clouds, fires, active volcanoes, space shuttles, ships, satellites and icebergs. You can also track the state of the Polar icecaps, European Lightning, find weather forecasts, temperatures, wind directions, day and night zones, the moonphase and more...
---

There is now a movie sequence of the North Pole Sea Ice. You can watch how the Polar Ice melts in the summer, opening up the North West Passage.

In the winter the open seas quickly freeze again, making shipping impossible, except for ice breakers.

---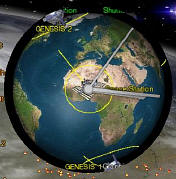 With the Earth Clock from Xentax.com you can make a clock widget for XP and Vista, using maps from this website. The example on the left shows the position of the ISS. You can of course also use the views (Earth From The Sun), (Antarctic) or whichever you desire.

(Download
, source: http://earthclock.xentax.com)
d
---
---
---
What am I looking at?
The Explanation Page will give a guided tour.
---
This website uses "Blue Marble: the next generation" images from NASA, to portray the changing seasons of the planet. Every month a different earth map is displayed, which shows the changing colors of the vegetation and changes in ice coverage globally.