Genesis 1 - the first small step for space hotels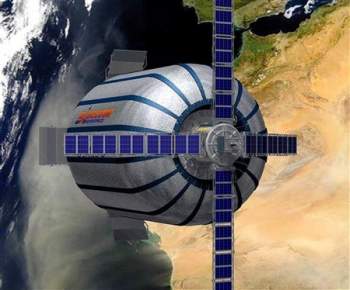 By Erich Habich (Jul 13, 2006)
Webmaster

---
Robert T. Bigelow has a vision: to enable privately funded expeditions a stay in space. The method to achieve his goal is based on the "
TransHab
" concept, the patents to which Bigelow bought in 2000 from NASA. Bigelow's track record as entrepeneur is well proven as founder and owner of the
Budget Suites
hotel chain.
The Genesis 1 is the first of two 1/3 scale prototype models of the future line-up of space habitats, which will range from the Galaxy class, to the BA330, which will offer 330m³ of space (ISS has 425m³ volume).
Genesis 1 is scheduled to remain in space for 5 years, at a height of 500km (310miles). During this time the hull will be tested, which in the final BA330 version will composited of Kevlar and have 40cm (16in) thickness.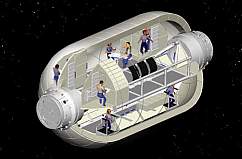 NASA senior engineer William Schneider, who conceived of the TransHab concept, is not in doubt that by 2010 the first Space Hotel will be orbiting Earth. Of course, to reach the commercial space complex the transportation must be sorted out.

Robert T. Bigelow is therefore the initiator of "America's Space Prize", which will pay $50 Million US Dollars for 2 successful dockings with his Space Hotel in 2010: the details of the competition can be found
here
.

Images in this section copyright Bigelow Aerospace. All rights reserved.

Further information:
http://news.bbc.co.uk/1/hi/technology/5173388.stm
http://www.mengr.tamu.edu/research/buildingaspacehotel.html
http://www.raumfahrer.net/raumfahrt/raumstationen/bigelow.shtml
http://www.raumfahrer.net/news/raumfahrt/13072006153921.shtml